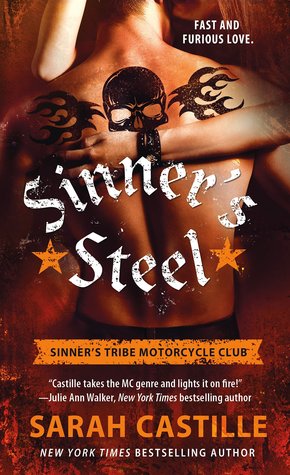 Sinner's Steel gives us everything we want in a MC novel! Dirt, grit, Dark, sex, more sex, edge, alpha bikers and tons of action and suspense. Sarah Castille does it again in her hit series, Sinner's Tribe Motorcycle Club.
Must like the former two novels in this series if you are shy about darkness with grit and edge in your MC novels this may not be the one for you but if you are like me and want that realism and want to see our heroes and heroines come out of the darkness to find some light in a HEA then this definitely will be a read for you.
Zane aka "Tracker" we have met in the previous novels but he is very much in the shadows of the club, his character is very much an enforcer and involved in the violence and least pleasant aspects of the life. What makes this really interesting is that our heroine Evie met Zane when they were very young...even then there was a darkness around Zane but the connection was there. I'm not sure if you would call this a second chance novel because they never really had their first chance. I think of it more as a "what could have been" novel.
There is a very involved back story in the relationship between the two and the reconnect is full of surprises but in order not to spill any details I will not go into specifics...you really do need to experience the story as I did with no idea what is going to happen. I will point out that Evie did annoy me at first but she does seem to be confused and a bit too innocent for words. Her co worker I just wanted to smack around and give her a good dose of reality...it is like she thinks bikers are Disneyland characters...grrr....
I do admire Sarah Castile for giving Evie a very controversial possible love interest and riding that connection to where it went. It will be very interesting to see how he impacts future novels. SC writes these novels as a standalone but to get the most enjoyment from the book I would really recommend you start with book 1 and read the series. There are reoccurring characters and will help you understand why they behave in certain ways and will let you be much invested in the MC and what happens to them. There is wonderfully dirty and sexy talk and the sex in the novel is major HAWT! there is also major violence so if that is not your thing...better give this one a miss.
I'm a 4.5 star lover of this novel and a recommendation of not only this novel but this series. Looking for a well written edgy, dark MC romance look no further...The Sinner's Tribe MC is waiting for you!!!
*Thanks to Netgally and the publisher for giving me this novel for an honest review*