ON SALE NOW!!!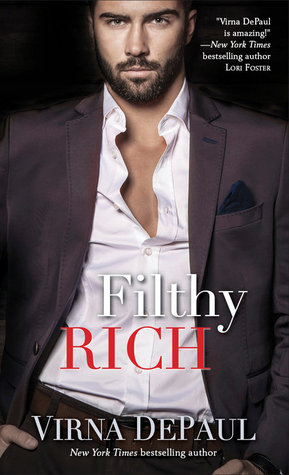 Virna DePaul is a new to me author and I'm really glad I took the chance and requested this novel with the sexy cover from Netgalley who kindly gave it to me in exchange for an honest review.
Not your typical billionaire romance novel. Virna DePaul grabs the readers attention immediately by giving us early character development so that we can connect to the characters intimately and immediately. The back-stories are so important as the story really does revolve around the feelings both positive and negative that Cara and Branden start to feel for each other.
The plot compels the reader forward with twists and turns and the intense chemistry between the characters fills in the gaps between the drama and intrigue of the high finance arena. I personally loved that VP didn't spend a huge amount of time world building but used that time to develop the characters and chemistry for the reader. There were some loose ends which annoyed me enough to cost a 1/2 star in the rating ....example....mentioned a couple of times that this job was not necessarily what Cara wanted to do..but that was never brought forward after the initial first chapter, the stories of Brandon's relationships with his sisters. The point was made to introduce them....I can only assume that a series will be made of this family and that was the reason for so may sisters and the introduction of them.
This was a 3.5 star for me and Virna DePaul is an "author to watch for" for t'irla's talk...I enjoyed this my first novel by her and will be seeking out other novels....I do love finding new authors!!! Join me in discovering Virna DePaul.