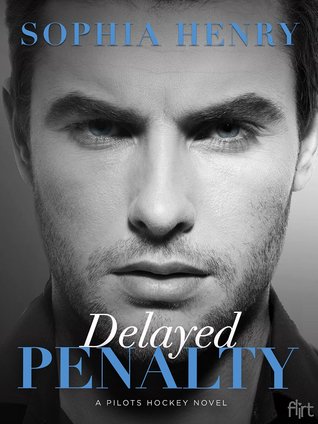 I'm a fan of hockey romances, I think it is the Canadian in me coming to the foreground so when I saw this novel and that it was Sophia Henry's debut novel I just had to ask Netgalley for a copy in exchange for an honest review...thanks to Netgalley and the publisher for providing it.
I enjoyed SH's fresh perspective on the hockey sports romance. I admit I did think this novel was going to be more new adult than young adult when I requested it and I have to admit freely that I am not a fan of young adult novels. The age of these characters is 20 and they are either attending University or playing professional sports so I do have to say up front I really wanted the characters to have a more mature physical relationship, although the chemistry was there it felt that the car kept chugging but the engine would not turn over. I admired that we had attraction without insta sex and that Aleksandr our hero and professional athlete was not a manwhore as so many sports figures are portrayed it really made it feel like he had respect for Auden which is why this should be classified as a Y/A novel.
The writing was excellent for a first timer and the plot was good. I enjoyed that the characters were Russian or of Russian descent, it gave a reality to the story as many of today's players are from that part of the world. I liked seeing Auden embrace her heritage but still be an all American kid. I also liked that it was a shared experience that brought our main characters closer together and gave them that common ground to connect with and grow on.
I do have to seek clarification from the author on one thing....I was reading other reviews and it seemed that most them thought Aliksandr played for a Canadian team ...but I do believe his team was a Detroit team that they just partied across the bridge and or tunnel in Windsor and that is why Canada was mentioned.Correct?
I really enjoyed Sophia Henry's writing and am looking forward to watching her grow with each novel. If you enjoy hockey romances and don't mind it being PG I think you will enjoy this debut of the brand new hockey series "Pilots" ...give it a go....3.5 stars for a well written story with depth and freshness.