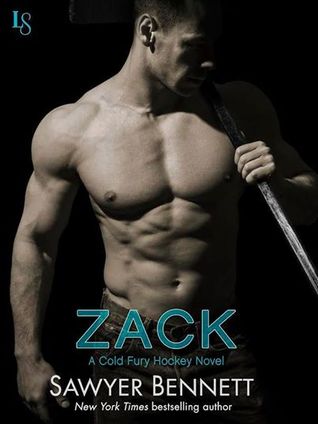 I saw this book listed on Netgalley and loved the cover...Yes, I have a thing for awesome abs *grin* and thought I just have to read this novel so I requested it and was lucky enough to be given a copy for an honest review. Then I noticed it was book 3 in a series and well yes, I'm a bit OCD when it comes to reading books in order so I just *had* to get books 1 and 2 (see those books for my reviews). I was snared in book 1 Alex and caught by book 2 Garrett, I found I really enjoy well written sport romances, especially ones such as these that have some depth in the plot and fluid storytelling.
For those of you who haven't been "spoiled" by reading other reviews I won't go into a lot of detail on the plot and how the romance all came about because at the end of Garrett I know Zach was with Gina.
I enjoyed getting into Zach's head but I found that at 75% he still would not admit his feelings I was beginning to worry but Sawyer didn't let me down the ending was wonderful. Kate our heroine was great a wonderful contrast to our intense Zach. She is more laid back yet very plucky and "adorkable" and although at times she came across as confident she was actually quite insecure.
Over all I was completely submerged plot and that is great storytelling at it's finest. 4 glittering stars for this wonderful sports romance and a recommendation. I know I will be following this series and checking out more os Sawyer Bennett's work. Zach will be released TODAY so make sure you one click it today and make this your first summer read of 2015!