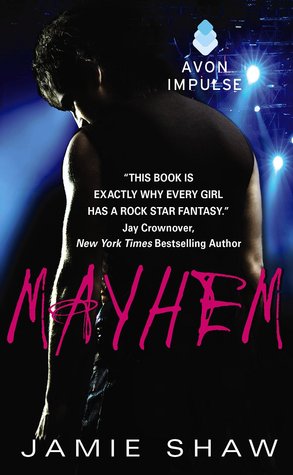 I so love a good rock romance. Ok, the stories are not necessary all very original but when you have a great writer who can create wonderfully lovable characters and weave a plot that brings a unique essence to a much written story line you know you have something special. Jamie Shaw's debut novel is special. I myself am a fan of rock bands and she brought all my dreams to life in this novel.
Mayhem is not just a rock band story it is also a coming of age story in many ways. We have a rock star Adam, literally bumping into our heroine Rowan who is a fan just trying to get into his concert and sparks fly. Though a series of coincidence and deception we find Rowan tutoring Adam and joining him on the road. It is here we meet the rest of the cast of quirky characters and learn to love them all through Rowan's eyes.
This is a sweet love story that uses humor and circumstance as vehicles to move the story along. Much of the story happens in just a few weeks but we understand that sometimes (especially in romance novels) it doesn't take long to fall in love. There is some angst but it isn't over the top.
I had no expectations going into this novel since I hadn't even read the blurb but I totally enjoyed it and know that Jamie Shaw is going to be a name to watch out for when checking out future book buys. The next book in this series is already on my TBR list and I can't wait to read it.
A 4 star review for this new author and I know she is going to be force in the contemporary romance genre if she keeps creating great stories such as this.
In Riot book 2 in the Mayhem series you have author Jamie Shaw venturing further into writing after her successful debut with Mayhem. Mayhem was a sweet rock star read and very enjoyable. Riot is a different kettle of fish altogether. It is wonderful to see an author grow before your eyes. Riot is a slightly darker story with the main characters more damaged and more needy, both trying to figure out their lives in very unhealthy ways. Riot is a coming of age story with a very different message then Mayhem. You do not need to have read Mayhem to enjoy this novel but your will have a fully rounded views of all the characters if you do.
Our main protagonists Dee and Joel both have terrible self images and their past behaviours reflect the darkness in both their characters. In both characters we have a much deeper sense of who they are and why their behaviours are not healthy. JS does a wonderful job of eliminating all the sweetness and light that Mayhem had and giving this novel a grittier feel. We also gain more insight into the other band members and their personalities and the reader definitely wants to learn even more than the short looks at each member that this novel allows. We also have a tad more angst in this novel but the angst is internalized and makes the characters act out and hurt each other which made for a great story.
Jamie Shaw has shown she is more than a one trick pony and can dig deeper and grow with each novel she writes, she has me anxious for Chaos and to see what she will spring on us next.
I enjoyed this novel even more than Mayhem which I rated 4 stars so I will have to give this novel 4.25 and nod to the writing style of this author and a recommendation..if you love Rock Band love stories this novel is one you can not miss!