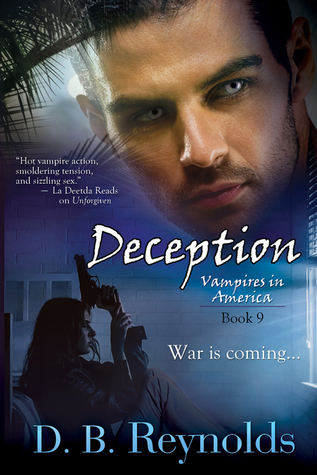 OK, I admit it..I have a girl crush on D.B. Reynolds after all she has given me Raphael my ultimate book boyfriend and 8 awesome novels all of which are on my favourite shelf. She has also given me one of the most Kick-ass Heroines since Cat and Kate Daniels. So when a new book is announced I stalk her...I *need* to see cover releases, blurb releases and any excerpts she allows us to see. I adore that she teases us with novellas in between her full novel releases so we can have our Vampires in America "fix". Now she has spun off a series at the same time as continuing my beloved ViA. Vampires in America: The Vampire Wars was given to me by Netgalley for an honest review so thank you Bellebooks and D.B. Reynolds.
What can I say, this book kicks ass!!! Everything I expect from DBR and more. In the last several books the invasion from the European Vamps have been a nigh. In Vincent we had our first overt attack but in Deception we have the first real "shot" fired. Target one.....my beloved Raphael and that is all I"m gonna share about the book cause you *HAVE* to read it to appreciate it. I will say it is definitely a Raphael/Cyn book but we gets lots of time with Juro, Lucia, Elke and Ke.....umm...Juro's twin brother. *grin* you have to read to find out his name...and I will give one more tid bit....Elke finds a love interest....yup *wiggles* I love it!!!!
Usually at book 9 in a series you have at least 1 so/so book that is more a story vehicle than a sink your teeth in and hang on for the ride book but so far DBR has made each book a home run! Each book moves the story in what you know is a finely manipulated well written way, DBR's continuity person deserves a hot fudge Sundae each day as a reward for keeping the story clean with so many characters and threads of a story it must be hell to keep them straight and remember each exact detail.
I adore all the characters in ViA and love how each one has thier own individuality but are all easy to relate to and totally likeable. There is a vampire every reader will love:) ... In this novel we do meet one new character who is human and it seems we are going to be seeing more of him in future books and we meet a "blast from the past" who is other...*evil grin* you will have to read the book to see to what I'm hinting:)
This book gets a huge shining 5 star rating and has me so excited for the next book I don't know how I am going to last...Alliance please I need you soon! If you have not yet been introduced to Vampires in American it is really time you start or if you are a fan this is a DO NOT MISS read. Deception releases March 31, 2015! Pre order NOW!
Amazon: http://www.amazon.com/Deception-Vampires-America-Vampire-Wars-ebook/dp/B00STWXAVC/ref=sr_1_1?s=books&ie=UTF8&qid=1427158090&sr=1-1&keywords=Deception+D.B.+Reynolds