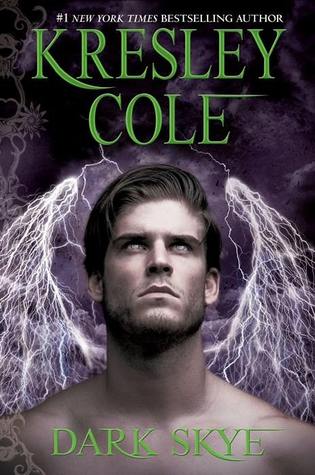 Ah back to the IAD that I have loved and yearned for...enough of the sugary MacRieve and back to the down and dirty conflicts.
Dark Skye was everything I yearn for in a IAD novel...I had hoped these two fascinating secondary characters would get their own novel and Kresley Cole did not disappoint! Thronos and Lanthi's journey in Lanthi's own words is EPIC.
KC's way with great characters continue in this outing and her female characters are just as strong as her male "heroes" which recently I have found lacking in some of the new PNR releases. Lanthi was always a bit shallow and annoying and she continues that in this novel however you grow to love these characteristics and they offset the straitlaced, black and white Thronos perfectly. This couple does experience some cultural differences and this does bring much conflict to their love story but also a misunderstood history causes more conflict and the story is their journey to rediscover each other and overcome misunderstandings and familial strife.
I love that KC brings each story to a satisfying ending and yet keeps the larger ARC moving and readers aching for the next book. I can't wait to see where she takes us next...and wonder what is up with NIX??? More happenings on that front...and Fury made a cameo...when will she be rescued? so many questions still circling my mind. This is a longish series and the fact that Kresley Cole can still keep her readers anxious for the next one...not just out of loyality but out of an appreciation of great storytelling and writing is an impressive accomplishment. This series is on my must have immediately upon release list and has earned it's spot in the top 5 favorite series.
I listened to this novel on audiobook and the narrator is fantastic! Well worth the extra $$ spent...but if you are like me..I have to have the book in both formats:)
5 star read for me..and if you haven't met all the wonderful characters in Immortals After Dark...and found out the secrets of Demon horns..you really must go and buy this series....for all you IAD fans..this is a must not miss installment in the series...now go...buy! Enjoy!