A note from t'irla: I discovered this UF with romance series last year and really enjoyed it. If you are a fan of Kate Daniels, or Mercedes Thompson I do recommend you give this series a try!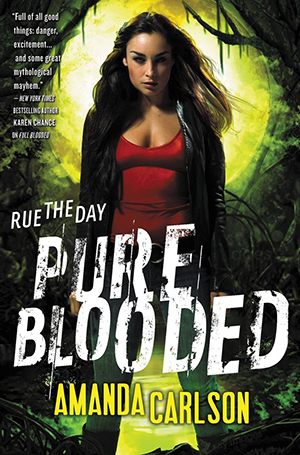 Like the Energizer bunny this story takes off with chapter 1 and keeps on ticking right to the end...What an action packed novel. Thanks Netgalley for giving me this ARC in exchange for an honest review.
I'm a fan of this series. There are not many urban fantasy series that have enough romance in them to keep my attention but Jessica McClain is certainly one of them. I have likened this series to Kate Daniels before and I still think it has that feel about it, the hint of romance, the action packed adventures these series give me everything I'm looking for in UF.
Once again Amanda Carlson has our heroine Jessica getting into to more trouble with her team of sidekicks than any female werewolf has a right to survive. If you have read any other books in the series and loved them this book will not disappoint. In many ways this novel is the ending of a story ARC and gives us a hint on what to expect from future novels. I for one can't wait! I hope AC will write faster the wait is much too long in between books. If you haven't met Jessica, Roarke and the team you really MUST> Each of these characters seem to get their own little sub story within the main story of the novels. I love seeing secondary romances form and seeing these characters grow. In this novel we have a vampire/werewolf love story that unexpectedly happens.
Amanda Carlson writes a tight story with amazing characters who you care so much about you actually end up biting your fingernails off while waiting for the outcome, I know I did. In this outing we meet a voodoo goddess who wants a piece of Jessica and this leads to zombie alligators, snakes and ghouls...everything you want in a fast paced UF book.
If you get the feeling I enjoyed this book you would be right. I was entertained and left yearning for the next book. I give the novel a strong 4 star rating and a recommendation. If you haven't met Jessica, Roarke, Tyler, Danny, and the rest of the Team you are missing out so go stalk up and take the series to the beach it will make for an enjoyable summer read. Pure Blooded is available for pre-order NOW and will be coming to you June 16, 2015.