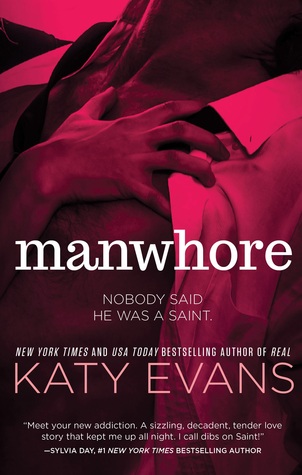 I wasn't sure what to expect with this title and I admit it kind of put me off a bit however, I do love Katy Evans her Real Series is one of my favs. So I decided to listen to it on Audiobook and the narrator was wonderful.
This book was much better than I expected from the title and everything I expected from Katy Evans. KE has a wonderful talent for writing the best alpha males. In this outing her alpha is a uber rich slightly damaged billionaire who does what he wants and apologizes to no one. Yes, if you just look at the surface he could be a Christian or a Gideon but Saint is man unto himself. Unique in the way Katy Evans creates all her heroes.
This book is very much driven by Saint's characters. His heroine Rachel's actions are actually reactions to his behaviours directly. Every scene in the book is artfully written around this broody, difficult, sexy alpha. Rachel is different altogether she is supposed to be driven and ambitious, a self assured workaholic who lives for her job and promotions. I think she misses the mark a bit here. Rachel is too nervous, blushes too easily, doesn't really appear to have the temperament and backbone to project who she is supposed to be. I also thing her character goes off the rails a bit with her wanting to help others and her social awareness.
All this being said the characters have a depth and intensity that make you connect with them, feel with them and the chemistry between the two just jump off the pages.
The writing is solid and storyline well planned out. I know the premise is predictable we have been reading it for years. I think Harlequin based 1/2 their novels on it during the 70's but KE makes it new and fresh making the story come from a different place even though the experiences may be the same the characters are not and their reactions are as unique as their characters. I really enjoyed that it wasn't insta sex and insta love but a sexual awareness that grabbed but was not acted on immediately. I think Saint and Rachel sleeping in the same bed and not having sexy was one of the more intense scenes I have read in a while.
The couple of nit picky things that bugged me and caused me not to give that final star are first the blushing...enough with the blushing already, yes she has pale skin, I guess she is easily aroused and gets embarrassed easily but how many times does it need to be pointed out. Second is Gina, Rachel's room-mate and best friend...yes friend, not mother. How Gina treated Rachel and pushed her because she herself had a bad experience really got on my nerves. I can't wait for her and Tahoe's book so she can be put in her place.
I have to give 4.5 stars to this sexy, intense, alluring novel and to be honest the ending of the novel gets a 5 star. I can't wait for the next book to come out. Katy Evans has created her own niche in a market full of angst, brooding males and naive females her unique writing style and character creations bring her to the top of the barrel. I give this a high recommendation put it on your Easter weekend must read list now.