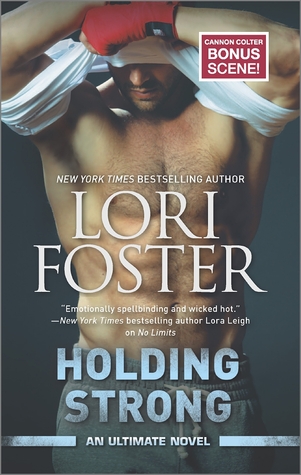 Holding Strong is the 2nd book in the Ultimate fighting series by Lori Foster and the novel was given to me by Netgalley for an honest review. I had never read a Lori Foster book when I received this novel so I started reading .5 and book 1 before I started reading this book. I think reading these novel's back to back gave me a greater enjoyment than if I had read them a year apart.
I really enjoyed Denver, he is a true alpha, protective, bossy and used to doing whatever he wants to do. Cherry is a fun, bouncy, flirty girl who had a abusive past and wants to leave it there and enjoy life. Cherry has crushed on Denver since she met him and he has been running fast in the other direction. I liked that Cherry realized her feelings ran deeper but Denver took longer to tune into his feelings..he was all about the lust at first and yes Denver talked about his wanting Cherry A LOT, too much actually.
The sub-plot of the story was dark, dangerous and really gave this love story a boost with the grit of it. I tend to like a bit more meat in my romances. It was especially entertaining to watch the other fighters at the rec centre distract, protect and poke fun at each other and their love interests. You will be happy to know that the characters from the novella and first book appear in this novel and brings the books together in a more cohesive way.
What I didn't like was Denver calling Cherry "girl" as an endearment. I have always hated that but this is purely a personal objection and may not bother other readers. It tends to make him sound much older than his years.
Overall I enjoyed this novel and will definitely keep reading the series as I love the fighters and can't wait to read all their stories. A 4 star rating from me..and if you love "lighter" MMA fighter books then you will definitely love the Ultimate Series. Check it out today!