In our second romantic suspense novel of the month we would like to introduce one of the leading authors of romantic suspense Lena Diaz! Lena is starting a new series and we have been fortunate enough to receive an ARC!!! This fantastic suspense novel will be released June 30th just in time to load onto your kindle for that quiet time at the beach or cottage. Now romantic suspense in it's truest and steamiest form.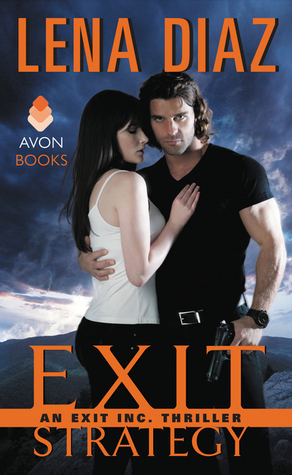 Wow!!! What a ride! Fast-paced, edge of your seat action adventure that will have you biting your nails!
Exit Strategy is a the first book in a new Romantic suspense series that is going to jump from the pages onto the screen if I had to forecast the future. Once you are in it's grip you can't put it down, I call it the "one more chapter syndrome". I was entertained from page 1 to the very end.
Sabrina our heroine is a heiress who seems to have gotten on the wrong side of Exit Inc. Mason is the Exit Inc. enforcer hired to kill her...and the story takes off from there, with gun fights, bad guys, worse guys, and the good guys coming to the rescue. What we want to know is why? Why has Exit falsely put out a hit on her. I'm not going to tell you anymore of the story...you so have to read it to appreciate it.
Lena Diaz is a new to me author and this won't be the last book of her's that I will read. The writing is excellent and the story well crafted. Although I found myself a bit at a loss in the first chapter or three, I soon found that my questions were answered I just had to hang in and let the story unfold at it's own pace. The characters have breadth and allows the reader into their heads so we can feel every fear and every emotion as they experience it.
Set in North Carolina it is the perfect location for this nail biter to unfold. The rugged terrain of the mountains and forests casts a darkness around the story and drags the reader even further into the intrigue.
May is Romantic Suspense month on t'irla's talk and I'm so happy to have received this ARC from Edelweiss in exchange for an honest review. A solid 4 star rating on this rapid moving story will be released June 30th 2015 but don't miss out you need to pre-order it immediately. Start your summer the right way and grab this intense yet steamy romance and your beach chair then hang on for the ride.