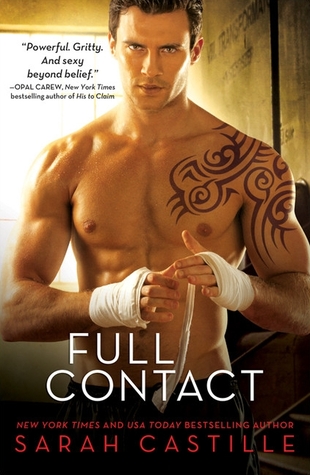 I was so excited to receive this novel from Sarah Castille via Netgalley for an honest review since I am a huge fan of her writing and this series in particular. I was even more excited that I got everything I was looking for from this book and more!
The series is based around the MMA gym Redemption and it's fighters. In the first two books we get the story of the owner of the gym and it's top ranked fighter, in this story we are branching out to another one of the fighters who fights strictly underground. We met him in "On the Ropes" his fight name is Predator and he definitely is one. The heroine is the sister of Fuzzy the cop who teaches classes at Redemption, Sia.
In this novel SC adds a bit more darkness into her storyline and into the characters themselves and a more gritty feel to the gym and fights. Her main male character Ray aka Predator is surrounded by mystery but has a definite BDSM leaning. That being said those initials were never mentioned in this book nor any of the words connected with them. SC's point I think is that a bit of tying up and control isn't really BDSM play. The hurt during sex has roots that are pointed out and resolved before the end of the book and I think the spanking threats were pure sexy-time fun. I know RT's review compared the book to "Fifty Shades of Grey" but I think they are way off. It seems any book with the slightest BDSM elements get that comparison and it is not true. This story, setting and characters are nothing like those in FSoG and I think it is a disservice to the author and potential readers to draw this parallel. *ok off my high horse*
I enjoyed Ray, he is not the most verbal of hero's and his alphaness borders on Neanderthal but with his work history (what we learn of it) and his military background it really isn't that unbelievable. Ray is very much a control freak and is a definite "MINE" guy but I think if you love over the top alphas like I do you will love "The Predator". Sia too is a damaged personality, a survivor who hasn't be able to let go of her trauma and at times comes across a bit spineless and I admit that did get on my nerves a bit. I got a bit annoyed when she kept comparing the Ray "Predator" to wild life predators. I got it the first time by the third time I was over having the parallel drawn. By the end of the story Sia had an epiphany as she grew throughout the book and I liked her and related to her, she was a great mate for Ray.
Overall I enjoyed the edgeyness to this novel and liked all the characters. I think using the underground fights as a vehicle to not only move the story forward but to mark the changes in the main characters relationships was genius. Thanks for another great read Sarah Castille! A 4 star read for me and a recommendation to those who enjoy MMA novels with a bit of darkness. Can't wait for the next book...I hear it is going to be about Shayla! woot!
FULL CONTACT releases April 7, 2015 and you can preorder it here
Amazon