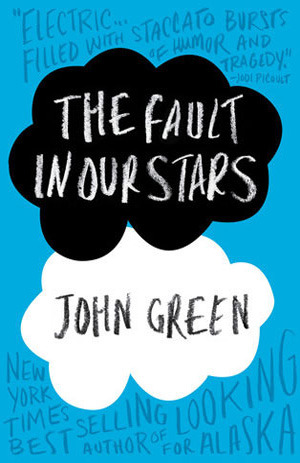 I'm not generally a fan of young adult novels but friends have been bugging me forever to read this book. It seems that one of these friends and I are seeing the movie next week and I was *told* I *had* to read the book prior to seeing the movie. I had the book on audio and thought I would give it a listen. Oh boy!!! As advertised this is one terrific listen/read. The narrator was perfect the voices for each character was wonderful especially Hazel.
John Green is a hugely talented writer and because he knew Hazel so well he brought her thoughts, hopes, ideas to life. Hazel jumped off the pages and became "real". The book was told in first person and usually other characters are short changed when that happens but not in this book. I got just as emotionally invested in August as I did in Hazel. I absolutely adored Isaac and wanted to bash Monica in the face for him. These wonderful characters become a part of you as you read the book.
The book is a total emotional read from several different aspects. Hazel was a 16 year old girl...emotional overflow...but she was also a very sick 16 year old girl...emotions off the scale. August was a 17 year old boy who had already been through so much in those years and although his emotions were as always in your face as Hazel's you felt absolutely everything that was shared with you.
As I said when I started the review I tend to like to read novels that the main characters are slightly older college age miniumum however I never felt that juvenile angst that I dislike so much. I felt that the love between Hazel and August was authentic and in no way puppy love. JG mentioned this a couple of times in the book but it didn't need to be explained I felt the connection was the real thing.
Thank you so much for this novel Mr Green and for gifting the world with Hazel and allowing us share August and Hazel's journey. 5+stars for this amazing read and I can't wait to see how the movie compares.
Update: I saw the movie and it is one of the best representations of a book I have seen. Even the dialog from the book was used and worked wonderfully. *worth the money to see in the theatre*