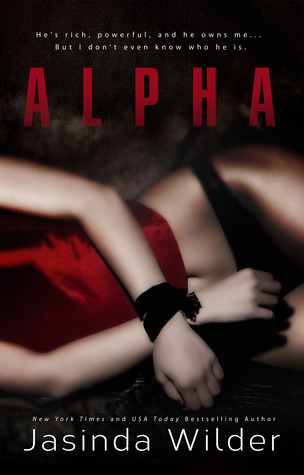 Jasinda Wilder is a new to me author but I just couldn't not read this book after I read the blurb and saw the cover..I mean the cover is HAWT!
I didn't read any other review prior to reading this novel and I rarely do..I tend to read them after just to see if my feeling were the same as the majority of the other readers. I'm pretty easy if the books have characters I connect with and a story that keeps in submerged I'm usually good.
I LOVED this book. The characters are outstanding, I totally fell in love with Roth, he is so totally hawt I can't stand it. Kyrie grew on me..I wasn't sure at first and I admit her dilly dallying at the end was kinda annoying but with the help of the ever funny Layla she got there. I connected with both MCs right away and with the story. I enjoyed the BDSM elements which was pretty much more of the domination/Control aspects and liked that JW didn't go here..and made it clear it wasn't really BDSM. Our Roth is just a major control freak. I found this understandable as we learned more about his past.
I enjoyed that this novel had a bit of a twist to the story which the premise has been done many times since Fifty Shades of Grey came out. This is not a copy of the story but would fit into the same subgenre as Fifty. For me this story was all about the connection between the two and how he wins her trust and how she wins his trust. It was wonderful.
There were two things that really stuck out for me in this book..One majorly positive and one a bit of a negative.
Negative first, continuity with ages. I don't know why this bugged me but it did. If Roth was 18 when he was suddenly on his own and Eliza has worked for him for 20 years as was stated twice in the book....how can he be 36 now? It just preyed on my mind...a little thing but....
Positive! Some of the best, hottest, sex scenes I have read in a LONG time. I admit I love erotic romance but I have become a bit bored with some of the sex scenes I have read lately. They at best been meh, or same ole same ole, at worst yada yada yada but this novel OMG! Jasinda Wilder writes SEX!! It had my toes curling and me shifting very uncomfortably in my chair. By the way Jasinda, my hubby says thank you! *grin* Wonderfully explicit, dirty without being crass, just wonderful!
The ending came way to soon but I wanted more..I want to see what happens next in Roth and Kyrie's lives because you just know it there will be some conflict and angst as she gets used to living his lifestyle. I also want to see how Layla does with Harris as I see sparks flying there..I do hope you will give us an Alpha II Jasinda!
JW also provides us with a lovely gift of an out-take from the story at the end of the book and it is steamy hot! Leaves you definitely wanting more.
Thanks for the great read. This was a 4.5 read for me and I recommend it to all those who love a wonderful erotic romance with a controlling alpha and a woman not afraid to take chances! I will definitely be looking for more Jasinda Wilder books and putting her on my watch list!